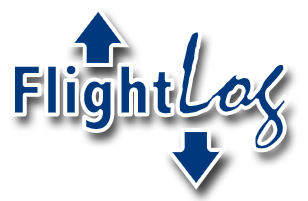 FlightLog / FlightLogHD
Notice: FlightLog currently is not available on the iTunes app store. If you are currently a user of FlightLog for iOS and are looking for a way to move your data to a different app, there are a couple of options for you outlined below.

One of the latest version of FlightLog released to the app store has the ability to export your data as a CSV (Excel / Comma Separated Value) file. This is a fairly common format that other flight logging apps often can import. To use this feature, go to the "Generate Report" feature, select the fields that you want included (be sure "show individual logs" is selected), tap "Dropbox" and then select "CSV / Excel". This will upload a CSV file to Dropbox.

Some users have reported an issue with the upload process, but others report that it is working fine for them. If you are having a problem, please reach out to me and I should be able to help.

If you only have the xml archive file on Dropbox and no longer have access to the app to recover the data and create the CSV, you can share this file with me and I'll be able to recover the data for you.

Alternatively, the team over at www.elogbook.aero has created a tool that can migrate your data over to their system if you wish to use them. They provide a free trial of their services.


Legacy Description
FlightLog is an iOS native app to help pilots manage and analyze their flight time. FlightLog started life as a rudimentary logging app. Over time and with feedback from dedicated users FlightLog has grown in to a powerful tool for flight time management and analysis.

The app is designed to keep your logs well organized; The home screen allows you to see summaries of your total flight time for each "Aircraft" group, as well as giving you quick access to detailed totals, a list of all of your logs, or even just the logs for a specific "Aircraft" group.

The Query Builder allows the user to get a report of flight time that satisfy a set of rules that user selects from a list. For example, lets say you want to know how many hours you have flying a single engine propeller aircraft, with a glass cockpit, more than a 50 mile trip, at night, as a pilot in command, and in the last 30 days only. A user can tap out this query quickly and get the answer within seconds! Another example would be to quickly see how many hours you have logged in the past 6 months as the pilot-in-command on cross-country flights at night! These are just two examples of queries the user can create. Any log criteria can be used to create your own queries! You can even create reports of your queries and save the to Dropbox or send them to your e-mail!

Data backup done right! A new update to FlightLog brought with it data backup capabilities that integrate with Dropbox. This integration allows you to backup your data to the cloud and recover it back on any device running FlightLog, even an iPad! Data backup to the cloud is a free feature for all FlightLog users. Create your free account at Dropbox or even from inside FlightLog!

FlightLog also has an Report Generation tool that lets you customize the fields, order, and other information you would like a report generated for. This report is either e-mailed to you our placed in your Dropbox for printing or keeping.

FlightLog is flexible in that you can enter and display time in either decimal or HH:hh format.

Please feel free to read the reviews of my other iPhone app, "FlightPlan", and see what people are saying. Suggestions and comments are taken very seriously and customer satisfaction is paramount.

Thank you for your interest in this software. If there are features you would like to see in the future, please contact me! Also, visit the website for more information, screenshots, to browse the user guide, and access to the forums.

FlightLog currently allows you to manage the current data:

Aircraft Options
Primary Identity (Category Name)
Secondary Identity (Tag for secondary merging)
Type (Either Airplane, Rotorcraft, Glider, LTA, Ultra-Light, Para glider, Powered Para glider, Other
Engines: (Either Single, Multi, or None)
Engine Type: (Either Prop, Turbine, Jet, Heavy Jet, or None)
Land/Sea
Gear Type: (Tricycle, Taildragger, Retractable, Skis, None)
Traditional / Glass Cockpit
Complex (New)
High Performance (New)
Pressurized (New)
Over 12.5k lbs (New)
TurboJet (New)
Log Entry:
Date
Number of Landings
X-Country time
Day/Night
Dual/PIC
A/Instrument and S/Instrument
To/From Airport
Note: Free text
Aircraft registration
Approach Type (Visual, GCA, GPS, ILS, JPALS, LAAS, LDA, Localizer, MLS, NDB, PAR, SDF, Tacan, VOR)
Block Times (off blocks, takeoff, landing, on blocks)
Crew Member and Role
Sim time
Night Vision Goggles time
Night Vision Landings
Night Vision Takeoffs
CFI Time
ICUS
Solo
Hoists
Ship/Deck Landings
External Load Lifts
General Handling
High Hover
Aero-tows
Auto-tows
Motor Launches
Gliding Launches
Highest Height
Dual Night
Flight Number
Gunnery Training
Combat Training
Banner Tow
Emergency Procedure
Manual Throttle
Mountain Time
Distance Flown
Campagne Time
Query Builder:
The Query Builder allows you to analyze your log totals by a combination of custom criteria you choose. Quickly see how many hours you have logged in the past 6 months as the pilot-in-command on cross-country flights at night! This is just one example of many queries you can rapidly build with the query builder that was introduced in FlightLog 1.1.0.
Report Generation:
This feature allows you to generate a report of your flight time and either e-mail it to yourself or place it in your Dropbox account. Reports can be generated containing all of your flight time or even reports of the queries you build!
Legacy Time: (New)
Easily enter previously obtained flight time.
Data Backup:
This new feature allows you to make a backup of your log data to the cloud, free! You can also recover this log data on any device running FlightLog, even an iPad

Get it from the iTunes store!

Please Note: FlightLog should be used as a supplemental tool to manage and analyze your flight time. It is recommended that you also maintain hard copies of all of your logged time to prevent loss should data corruption occure.